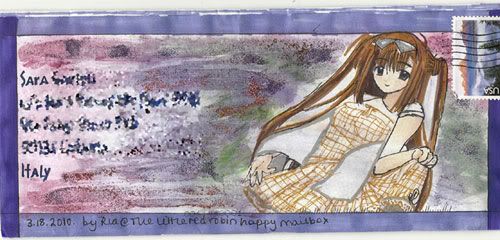 ^ A super-cute envelope by
Ria
***
What could we do, to be a perfect penpal? Well, we all have requests. I've learned to look at requests first of all, to understand what kind of penpal you could be.
I love massive letters. Not medium, not long, but massive. In a world where a long letter is five A5 sides (not sheets!), I can't say I like long ones.
What is happening, to letter writers? Why can't we write a bit more? Are you really happy, when you receive the "flat, sad envelope"?
Of course, I don't write 50 A4 sheets every time. It depends. I have a life too, and I need to feel ispired, to spend some time on my letters to make them grow and grow. So, I suspect that nowadays we have too many pals to concentrate on every single one. I always try to be quick, to write in a week and to not take months for my replies. But, of course, if I have let's say twenty pals... it could be hard.
Do you have too many pals? Do you focus on every single letter? Do you have the time to write? If not, think about it. What is it better... A very long letter written with heart and care... or two sides of paper with nothing inside?
What a "long letter" is, you decide. You're free, and that's the nicest thing about penpalling. You can search for friends who agree with your definition of "long". But, to start, I suggest to take the amount of pals under control.
Quality, not quantity!!
***
And, about the books challenge, I'm going on!!
Progress: 09/50